Discover Windber Country Club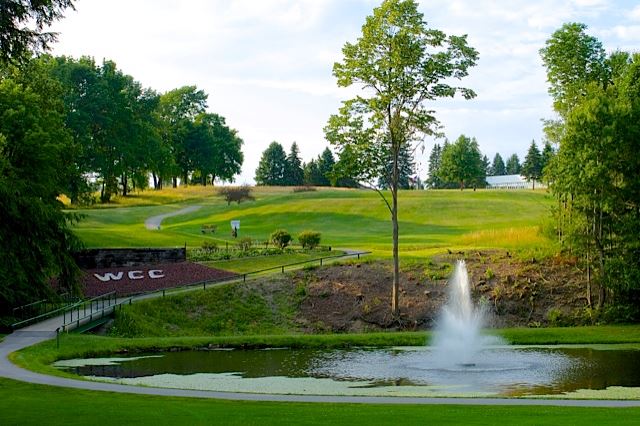 Windber Country Club was founded in 1959 and began with a group of dedicated and driven individuals from the Windber, PA area to create and develop a first-class golf club with a convenient location along the scenic rolling hills of the Laurel Highlands.
Businessmen from Windber, Paul and Jim Woods, presented many local residents with the opportunity to invest in the idea of building a championship golf course. With this pioneering vision, 30 charter members formed the building blocks of Windber Country Club.
After exploring several options, the founders of the Club decided to purchase a 78-acre farm near Route 160 between the towns of Elton and Salix. The deed for this property was recorded on June 25, 1959. An additional 128 acres were acquired through Berwind Corporation to make room for an 18-hole facility. To avoid any encroachment, ten more acres along the right side of the current sixth hole were purchased on September 22, 1960. In total, approximately 216 acres of prime land was available to build an exceptional golf course.
The services of James Harrison and Fred Garbin of Turtlecreek, PA were contracted and plans for an 18-hole championship golf course were completed. Michael Bigan, a charter member, agreed to construct the course and work began on a 7,202-yard course on May 15, 1959. After nearly 14 months of preparation, shareholders and their spouses played Windber's completed front nine on August 1, 1960. The following spring, on April 1st, the nine-hole course was opened to Associate Members and the public.
Originally, the Club's entrance was located off of Krayn Road and entered the course behind the current sixth green. A shed was soon constructed behind the seventh tee box and became the first Pro Shop. At this time, the first hole was actually the current seventh, and the current sixth hole finished up the outward nine. In 1962, Windber Country Club received a railroad easement from Berwind to build a road from the course property to Forest Hills Drive for a new entrance, which is used today. Construction of the first clubhouse, putting green and an all steel pro shop followed, and the holes were then reconfigured to the current layout. Construction of the back nine began in 1964 and the 18-hole course was completed in 1966. Expansions to the clubhouse, dining room, bar, and kitchen were completed and dedicated in 1975. Finally in 2010, a new 2,500 square foot, state-of-the-art pro shop was built. The course has been shortened over the years to enhance member playability but still remains a stern test from the Championship tees, which now plays nearly 6,900 yards.